RocketCam
Duration:
1 h
Price:
40 or 1,000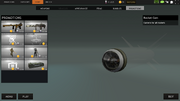 The RocketCam is an item. It is a camera for all rockets and missiles. It costs 40

or 1,000

and lasts for 1 hour.
Tips & Tactics
Edit
The RocketCam can be very helpful for SPA units. The player will get a good sight of where the missile lands.
Players can try the RocketCam by playing as a guest. They will get the required money pretty fast, and after the item expired, they can just start a new game as a guest.
Problems
Edit
The RocketCam requires much of the internet connection, and will likely make your game lag, no matter what graphic settings you choose.
Unlike the thumbnail suggests, the RocketCam does not highlight vehicles.
See also
Edit