Famas
Assault - Tier 

3

Based on:
Famas F1
Rate:
720 RPM

Range:

200m
Accuracy:
80%

Recoil:

31%
Mobility:
85%
Magazine:
20
Reloading time:
3s
ADS zoom:
1.25x
Availability
Class:
Assault
Tier:
3
Price:
600 or 50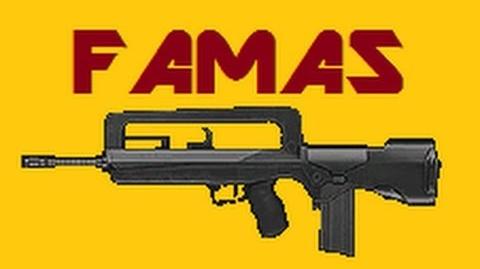 The FAMAS is a tier 3 Assault weapon.
Performance
Edit
Once you get the hang of it this assault rifle is a powerful weapon. It is capable of kills at much longer ranges than 100m provided that you use the sight. However the iron sight takes up much of the screen, which is among one of the weapon's only weaknesses.
Famas "Legionnaire"
Edit
The Legionnaire was released on March 9th, 2016 as a silver weapon variant of the already existing Famas assault rifle. It uses the same scope as the Reaper, and a different magazine.
It was released after a poll was created on RGS's Official Forums recieved TONS of votes for a silver edition Famas.
| Tier | 1 | 2 | 3 | 4 | 5 | 6 | 7 | 8 | 9 | 10 | 11 | 12 |
| --- | --- | --- | --- | --- | --- | --- | --- | --- | --- | --- | --- | --- |
| Damage | | | 33 | 43 | 57 | 74 | 96 | 125 | 163 | 212 | 275 | 358 |
See also
Edit