CGAT
Demolitions - Tier 

1

Statistics

Damage:

750

Range:

600m
Accuracy:
90%

Recoil:

80%
Mobility:
79%
Magazine:
1
Reloading time:
6s
ADS zoom:
x4
Availability
Class:
Demolitions
Tier:
1
Price:
34,200 or 342
The CGAT is a Demolitions weapon. While only having one ammo capacity its useful for weakening tanks as it only has 1 rocket and only doing 750 couldn't be able to take out tanks in one round as they have 1000-1500 heatlh.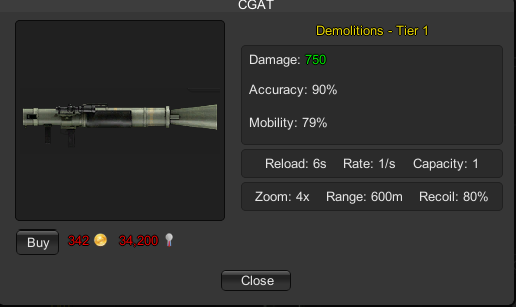 See also
Edit
Ad blocker interference detected!
Wikia is a free-to-use site that makes money from advertising. We have a modified experience for viewers using ad blockers

Wikia is not accessible if you've made further modifications. Remove the custom ad blocker rule(s) and the page will load as expected.